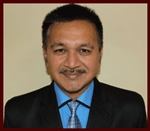 Dr. Manoj Nardeosingh
Dr. Manoj Nardeosingh who hails from Mauritius, took over the charge of office of the Assistant Secretary General of AARDO on 14 February 2014 after having been elected by the 64th Session of AARDO Executive Committee held in Kuala Lumpur, Malaysia on 21-24 October 2013. He was re-elected for the second term of four years (from 14th February 2018 to 13th February 2022) by the Special Session of the Executive Committee held in New Delhi on 4th October 2017. Prior to his appointment as Assistant Secretary General, Dr. Manoj Nardeosingh was Secretary for Cooperative Development, Ministry of Business, Enterprises and Cooperatives, Government of the Republic of Mauritius that post he occupied in 2005. Before that, Dr. Manoj Nardeosingh had worked as Senior Cooperative Development Officer from 2003 to 2005; Acting Secretary for Cooperative Development from 1995 to 2000; and Co-operative Development Officer from 1992 to 1995 in the Ministry of Commerce and Co-operatives. In 1991, Dr. Manoj Nardeosingh was Economist in the Ministry of Economic Planning and Regional Cooperation and he has also been a professor of Economics in the college.

While working in the Mauritius Government's Cooperatives Department in different capacities, Dr. Manoj Nardeosingh was responsible, inter alia, for conception, appraisal and implementation of cooperative development programmes and projects; advice on co-operative policy formulation and long term perspective planning and development strategies; consultancy services to cooperatives and coordination of information technology projects including training; multi-lateral, bilateral and regional cooperation for cooperative projects; and project evaluation and appraisal studies. He has interacted with various international organizations such as the International Labour Office (ILO), the International Cooperative Alliance (ICA), International Fund for Agricultural Development (IFAD) and United Nations Development Programme (UNDP).

Dr. Manoj Nardeo Singh did his Master of Science (M.Sc) in Economics from Moldavian State University (Ex USSR) in 1990 and Ph.D from Finance Academy, Moscow, Russian Federation in 2003. Topic of his Ph.D thesis was "Modelling of Organisational, Methodological and Instrumental Support for Small Organisations". Dr. Manoj Nardeosingh is fluent in English, French and Russian languages. Besides, he possesses fair knowledge of Hindi.

Dr. Manoj Nardeosingh has had the distinction to participate and present technical papers in various International and Specialised Training Courses, Workshops and Conferences between 1993 and 2010. Important among these were: International Co-operative Alliance (lCA) - Africa Regional Office Committee Meeting, Botswana (1997); Seminar on "Enhancing Cooperative Competitiveness in a Global Economy "Towards Promoting Cooperative Entrepreneurship and Strategic Alliances" Malaysia (2006); Workshop on CoopAfrica Programme ILO, Tanzania (2007); and Head of Mauritian Delegation to India- ICA EXPO 2010, Bangalore.

By virtue of being a subject specialist, Dr. Manoj Nardeosingh has been associated with various organizations in different capacities. He has been a Board Member for over 10 years in the Farmers Service Co-operation; Irrigation Authority, 1995 -1997; St. Antoine Planters Co-operative Trust; Court of University of Mauritius, 2005-2013; and National Institute for Cooperative Entrepreneurship, 2005-2014. Dr. Manoj Nardeosingh has been a Member of Food Security Fund Evaluation Committee; Law Committee for Reviewing Legal Framework for Cooperatives and Drafting of a New Co-operative Societies Bill; Co-operative Development Council and he has acted as Secretary to: National Trust Fund for Cooperative Societies (1995-98); Cooperative Tribunal (1995-2000); and Cooperative Development Advisory Board (over ten years).
Dr Manoj Nardeosingh was National Project Director of ILO/UNDP financed project on "Computerisation of Cooperative Accounts and Management" in Mauritius as well as coordinator of a number of projects in the cooperative folds. He also delivered lectures on topical themes and supervised MBA students in Mauritius. He has a number of publications to his credit, that among others, included: Booklet on Project Management, 1999; Inputs to Cooperative Development Plans: 1992-94, 1994-96, 1998-2000; Cooperative Development Strategies 2000-2005, 2005-2010 and 2012-2015; Economic and Mathematics Models for Small Businesses in the Russian Journal of "Markets of Economic Systems and Information Technology" (2001); Business Plans for Small Enterprises in the Russian Journal of "Actual Problems of Mathematical Modelling of Financial and Economic Activities" (2002).

With such a vast experience in the fields of economics and cooperatives development, AARDO will benefit from his services in further enriching its policies and programmes on rural development.