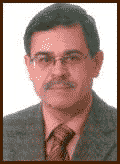 Eng. Wassfi Hassan El-Sreihin
His Excellency Eng. Wassfi Hassan El-Sreihin, who hails from Jordan, took over the charge of office of the Secretary General of African-Asian Rural Development Organization (AARDO) on 3 September 2011 after having been elected by the Special Session of AARDO Executive Committee held in New Delhi, India on 16-17 May 2011. He was re-elected for the second term (from 3rd September 2015 to 2nd September 2019) by the Special Session of the Executive Committee held in New Delhi on 1st July 2015. Prior to his appointment as Secretary General, His Excellency was Adviser to the Ministry of Municipal Affairs, Government of Hashemite Kingdom of Jordan and Honorary Regional Representative of AARDO for the Middle East Regional Office (MERO) that post he occupied in May 2006. Before become the Honorary Regional Representative, His Excellency had worked as Director in MERO from 2000 to 2006.
After having graduated from the University of Kashmir, India in 1982, His Excellency joined the Ministry of Municipal Affairs (formerly known as Ministry of Municipal, Rural Affairs and Environment), Government of Hashemite Kingdom of Jordan and worked in various capacities including Engineer, Head of Section and Assistant Director from 1984 to 2000.
His Excellency has been associated with many programmes of the Government of Hashemite Kingdom of Jordan. He was Member of Al-Smakiyeh Municipal Council, Karak District during 1985; Mayor at Al-Husseiniya – Mann District during 1986-1988; Member and Focal Point representing Municipal Sector of the Implementing Committee of the National Strategy on Poverty Alleviation for a Stronger Jordan, Ministry of Social Affairs during 2002 - 2004; and Member of the Coordinating Committee for the National Action Plan on Streamlining of Rural Women into the Agricultural Development Schemes, Ministry of Agriculture during 2002-2003.
Besides administrative work, His Excellency has been very active academically too. He completed his Post-graduate Diploma in Roads and Transportation Engineering in 1992 from University of Jordan. He attended Higher Administration Programme organized by Institute of Public Administration in 1999. He participated in many international training courses and seminars on issues focusing on engineering and environment like four weeks seminar on Environmental Management organized by United Nations Environment Programme (UNEP) in Kenya in 1993 and Engineering Project Implementation in Riyadh, Saudi Arabia (8 weeks) in 1989. Besides, His Excellency has been a member of Jordan Engineers Association, Jordan Concrete Society-Jordan Chapter and Jordan Road Accident Prevention Society, etc.
His Excellency also evinced keen interest on agriculture and rural development by way of participation in various international training courses, seminars and workshops. In 2000, he participated in international training course on New Community Movement held in Republic of Korea and in 2001, he attended training programmes on The Use of Machinery in Agriculture in Malaysia and World Trade Agreement and its Impact on Agriculture in Japan.
In addition to international training/workshop/seminar programmes, His Excellency participated in numerous local level training courses, seminars and workshops organized by the Universities, Engineers Association, Royal Scientific Society, Engineering Societies, Cities and Villages Development Bank, NGOs and other Voluntary Foundations on different issues like Municipal Budgeting, Engineering Laboratories and Tests, Project Implementation,Project Appraisal, National Construction Codes, Towns Road Design and Construction, Municipal Solid Waste Management, Social and Economic Analysis and Gender Analysis (SEAGA), etc.
His Excellency also took keen interest in AARDO organizational and technical activities. In collaboration with AARDO, MERO hosted six international/regional/local level workshops in Jordan during 2001-2011.Besides, His Excellency coordinated with AARDO headquarters in the organization of workshops in Syria and Lebanon during 2010. During 2002, His Excellency represented Hashemite Kingdom of Jordan in the Fourteenth General Session of AARDO Conference held in Egypt. He also participated in Fifteenth and Sixteenth General Sessions of AARDO Conference held in Damascus and New Delhi in 2005 and 2009 respectively. His Excellency represented Jordan in the AARDO Executive Committee meetings held since 2001 as well as participated in all the Technical Programme Committees and sub-committees constituted by AARDO.
His Excellency is fluent in Arabic and English languages and can also converse in Hindi/Urdu. With such a long and varied national and international experience in the field of agriculture and rural development and municipal administration, AARDO will surely benefit from his leadership to achieve its noble objectives.